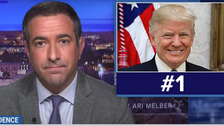 MSNBC's Ari Melber on Monday identified how "an increasing number of" Republicans are embracing lies in regards to the U.S. Capitol revolt via minimizing the violence or looking to spin the blame.
"The Beat" anchor then all of a sudden shredded ten rising falsehoods — via taking part in audio of outlandish GOP claims along photos of the fatal Jan. 6 riot incited via then-President Donald Trump.
"There are indicators of (how) blatantly rejecting the proof of your eyes and ears has change into a litmus check for some hard-right figures," mentioned Melber. "This issues for fact and justice and the way those lies unfold issues for our long term as a rustic."
And "it's no longer going away but," he warned.